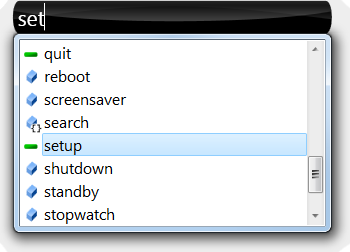 Say goodbye to time-consuming repetition
Stop hunting through your programs, folders, files, and bookmarks for the ones you need.
Promptu is a free utility that lets you give things meaningful names and access them almost instantly from your keyboard in an intuitive way. Find out how.
Visit the download page and get your copy today!
Feature highlights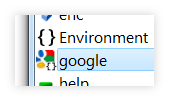 Namespaces
Group related commands together and even "hide" commands behind other commands using
namespaces
.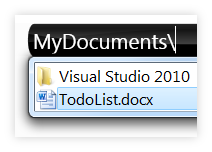 Quick and efficient folder browsing
Type a backslash "\" to enter folders and view their contents. Navigate as far as you want, and then press Enter on the file or folder you want to open. Promptu even allows you to treat commands that open folders as if they were folders.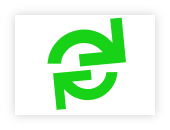 Intelligent sync across computers
Promptu works hard so you don't have to. Use Promptu's automatic list sync feature and eliminate the headache of keeping your commands on multiple computers up to date.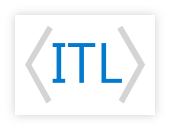 Commands can contain more than static instructions
Using Promptu's special dynamic evaluation language (
ITL
), commands can take parameters from the prompt and even execute and use results from external code!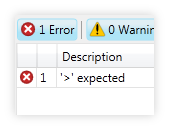 Automatic error feedback
When building commands that use ITL, Promptu provides an automatic compiler in the command editor that alerts you of any errors as you type.
News
Promptu 0.9.0.6 released & website overhauled - Saturday, 12 February 2011
This update to Promptu includes a few new features and other improvements. See the change log for more information.

The Promptu website has also been overhauled and given a new look in honor of Promptu 0.9 beta.
Promptu 0.9.0.5 released - Sunday, 21 November 2010
This update to Promptu includes a number of bugfixes and an experimental new feature that displays icons for commands where possible. See the change log for more information.

Note: if you are using Promptu 0.9.0.1, you may experience a crash while attempting to download updates. This bug has been fixed in later versions. If you experience the crash, you can download the latest version and install it into your existing Promptu folder.
Promptu 0.9 beta released - Saturday, 9 October 2010
Promptu 0.9 beta includes a number of exciting new improvements, including a brand-new look leveraging Microsoft's WPF technology. Download your copy today!