Beta Feedback
This is beta software, so you may run into bugs, crashes, or things that don't quite work right.
If you have any feedback or problems with the beta, we would like to hear from you.
feedback form
Download Promptu 0.9 beta

Promptu 0.8, an older non-beta version of Promptu, is available for download here.
Promptu is portable and self-contained (does not use the registry), and it does not matter where you put it, provided the location has read/write permissions.
The installer simply unpackages Promptu in the location of your choice.
How can I support Promptu?
Promptu is free to download and free to use, but if you would like to show your appreciation monetarily for Promptu and the 1100+ hours (and counting) of work put in by Zach Johnson, a computer science student at UCSD (University of California, San Diego), you can make a donation through PayPal.
What's new in Promptu 0.9?
Promptu now uses Windows Presentation Foundation
Windows Presentation Foundation (WPF) is Microsoft's leading edge user interface toolkit. As a part of the development effort leading up to the plugin API (see below), the Promptu user interface has been entirely re-worked in WPF and features a new default skin.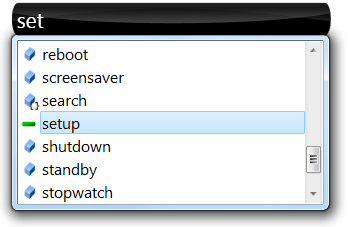 Promptu 0.9 also comes with a Classic skin for those who prefer the old look. Even then you will find improvements made possible by WPF.
Plugin API
Promptu 0.9 also includes a pilot plugin API and two plugins, Calculator and Notes, but the API is not ready for general public development right now.